Rosie Bitts and the Dirty Boys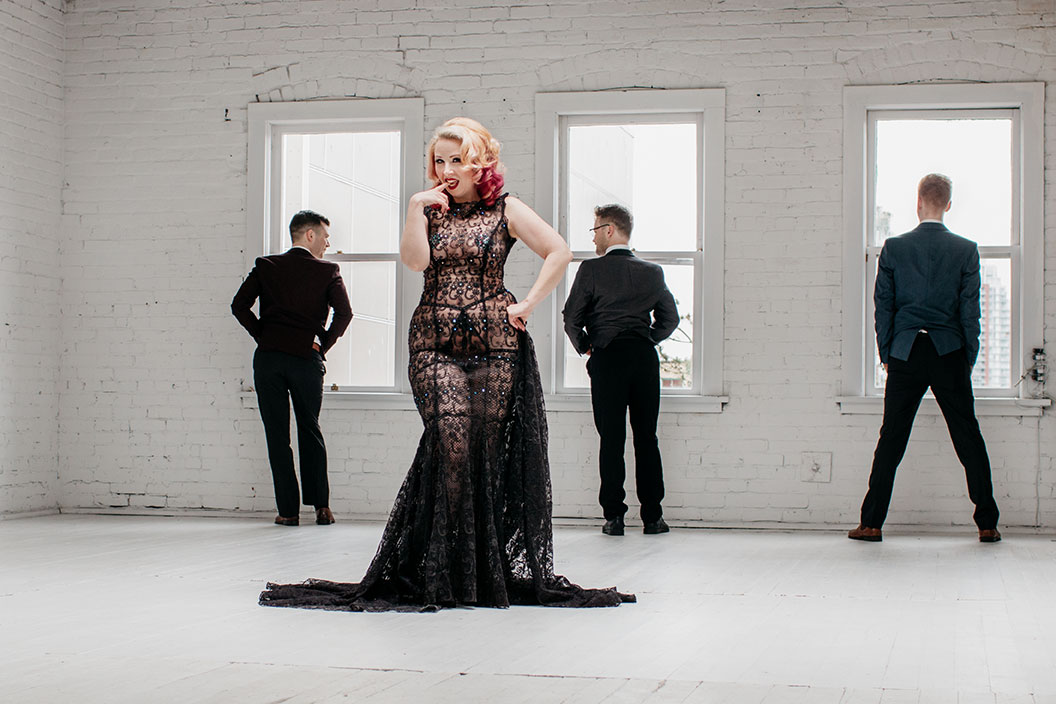 Step into an era of glamour, romance, and heartache. Rosie Bitts and the Dirty Boys create a show beyond just good jazz, blues and torch songs. A show that makes you believe you've stepped into a different time.
This night is filled with great live music, witty banter and very sexy cabaret dance.
We specialize in creating an atmosphere of delight and sensuality. Wether its an all ages event where we bring the saucy entertainment or an adult only show that involves luscious burlesque and dirty blues we offer something unique. More than just a band, we bring the party, an upscale, super glamorous and always fun party!!
I am beyond thrilled to be working with such beautiful humans and amazing musicians.
Jeff "Saucy Fingers" Poynter
Jeff Poynter is a multi-instrumentalist, educator, and artist manager based in Victoria, BC, Canada. He holds a Bachelor of Music from the University of Victoria, with a major in Saxophone Performance. Jeff performs regularly with the popular indie-folk group West My Friend as well as with sensational burlesque performer Rosie Bitts and the gypsy-jazz quartet Hot Club of Canada. He regularly tours Canada, the US, and Europe, and plays many styles of music, from classical to funk, latin to celtic, and jazz to folk.
Nick "Long Bow" Mintenko
Nick Mintenko is a professional bassist, singer, and songwriter from Victoria BC. After graduating from the Jazz Studies program at the Victoria Conservatory of Music, Nick began performing locally and internationally with the Juno nominated "Bills" and "Marc Atkinson Trio", and Canadian Folk Music award nominees "West My Friend". In 2015 Nick worked with Eryn Sharpe and Leon Nagasaki to record a collaborative album, produced by Marc Atkinson and Grammy award winner Joby Baker. In 2016 Nick recorded a collaborative album with West My Friend that was produced by Juno award-winner David Travers-Smith (The Wailin' Jennys, Oh Susannah). In 2017 Nick released his own album which he co-produced with Chris Neal. Nick has toured Western Canada and the Western United States, and Europe.
"…Working with Rosie has offered a great environment to learn from one of the best front-women in the country, to play music with her talented band in front of wowed audiences, and to create lasting and intimate friendships that have provided me personal security and growth. "
Alex "Orange Crush" Campbell
Alex Campbell is a versatile and musical drummer based out of Victoria BC. After studying at the prestigious Humber College in Toronto, he returned to the West Coast with an enriched love for music, and passion for all things percussion. Alex can be seen playing throughout the Victoria music scene, playing everthing from burlesque shows, to jazz gigs, country dances, and in many of the city's cover and corporate bands. He also plays in the internationally renown percussion ensemble Scarp Arts Music, and has toured extensively in Canada.
Booking
We are available for shows large and small! Please contact Rosie for details on booking us.